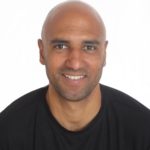 Matthew Nwabueze Okoh Looking back on a successful international professional coaching career. He has transferred his various multi-cultural experiences into effective training programs that are always based on holistic and systematic training approaches.
Having coached at the professional level in USA and Germany he created the GO PRO program providing a pathway for young players to develop in Germany, one of the world's top football country's.
In addition, the innovative development of existing methods is crucial for the creation of unique and individual football programs. The character of each team, as well as the short and long-term goals of the club are the basis of Matthew's approaches.

Earning his bachelor's degree in Mathematics from the University of Denver where he is ranks second on the career lists for goals and total points. Upon his graduation, he was seventh on the NCAA Division II all-time list for goals per game in a season.
Matthew holds the UEFA A License in addition he holds the UEFA Coach Educator License. He is a successful author and is fluent in two languages. He is characterized in Nintendo and EA Sports Playstation 2 games FIFA.